Education & Inspiration
MYP is technically the middle man or as we say, a rooting station. We take cuttings from suppliers and farms from all over the world and then we sell the hand-stuck rooted liners through our brokers. As a young plant grower, we want to make sure that everything we receive is translated into a retail, customer friendly version.
Between our Innovating Department or our Trial Garden, we are a great source of inspiration, information, and creativity.
This website is meant for YOU! We have so many downloadable and printer friendly reference sheets and flyers for customers, brokers, and reps.
---
CUSTOMIZE YOUR FLYERS HERE!

We've got plenty of marketing material for reps and customers. Need something catered specifically to your needs? We've got you covered! We can customize sell sheets and flyers! Reach out to Tyler.Duncan@MastYoungPlants.com for more info on putting YOUR NAME and YOUR LOGO on any marketing material that helps you close a sale!
---
2019 MYP GUIDES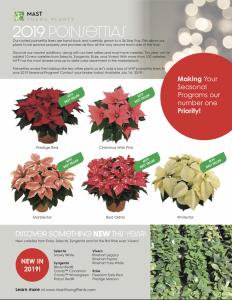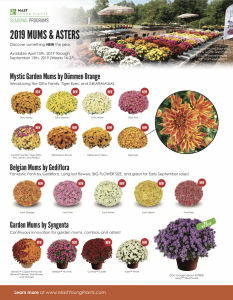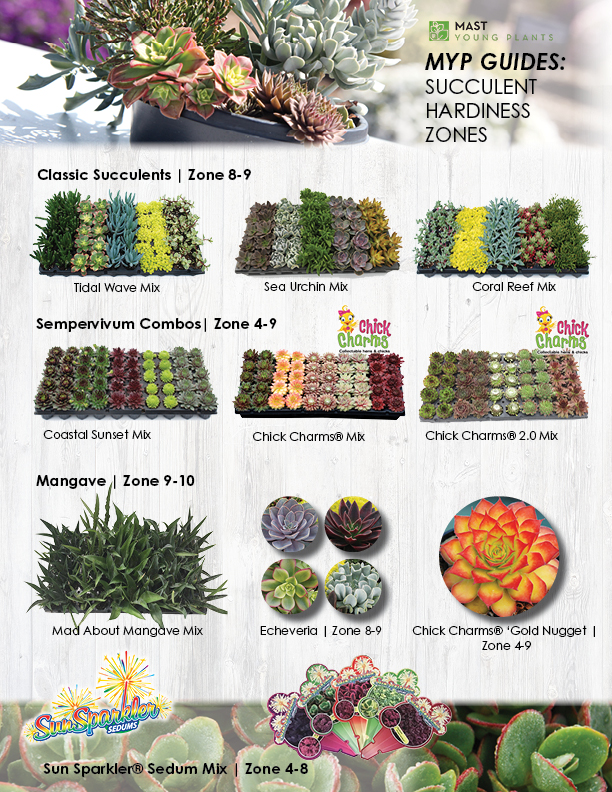 Did you know that succulents are popular? Of course you have. Succulents are in right now. MYP is proud to have more than 5 amazing combos that can be transplanted into 4″ pots or you can build you own combos!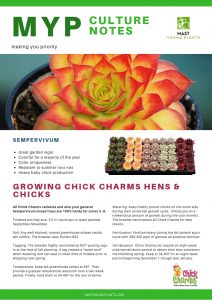 We get a lot of questions about our sempervivum and Chick Charm™ assortments so we've put together a quick reference to help answer some of you questions.

Did you open your box and find geraniums that are yellowing? Don't panic! Plant immediately! Check out our experience with yellowing geraniums in this MYP Guide, Trouble Shooting Geraniums.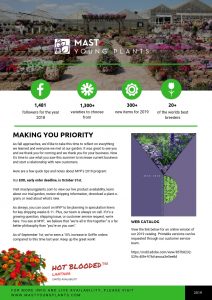 New to MYP? There is a great deal of information to short through! Check out our MYP Quick Tips as a "MYP for Dummies" reference to help get you started. Learn more about everything from ordering guidelines to our "Living Catalog"!
---
NAVIGATING LIVE AVAILABILITY (ePicas)
Our Live Availability can be a great tool for looking at plants that are available, however, it can be somewhat overwhelming if you are unfamiliar with how it works. Check out this step by step guide to working in MYP's Live Availability using ePicas.
MYP has a couple different programs. Though Spring Liners are our most popular program, we also have a mum and aster program that can be viewed on ePicas Live Availability. Take a peek at how to check out our numbers!
Not only can you view our Live Availability with ePicas, you can also book an order instantly! No waiting for customer service to knowledge your order and you are guaranteed to get the available trays that you want!
---
2018/2019 LATE INTRODUCTIONS / 2020 EARLY RELEASE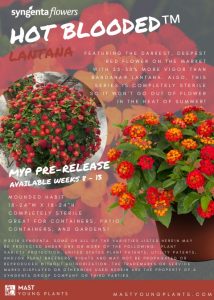 Introducing the hottest, deepest red lantana to hit the market. MYP is excited to add this EARLY RELEASE to our 2018/2019 program!

FleuroStar's award winning BEST NEW INTRO makes an appearance in our 2018/2019 program. Limited Availability!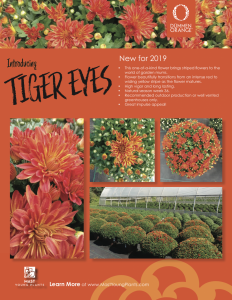 Did you see Dummen Orange's teaser ad in our 2019 Mum & Aster Catalog? We've got some big ideas in the works with Dummen Orange North America. Check out their first NEW/LATE release, Tiger Eyes.
---
2018 MYP TRIAL GARDEN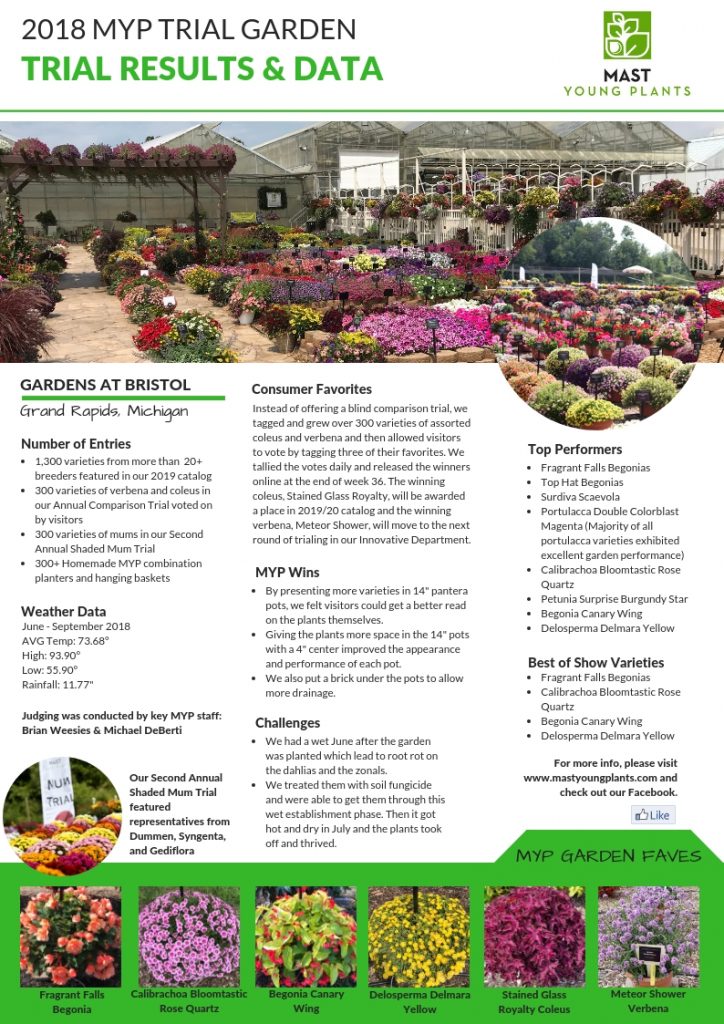 Tested and Trialed! Everything MYP offers has went though vigorous trials and tests by our growers and Innovating Department. Our 2018 Trial Garden had some notable highlights. Find out what our growers and visitors thought!

Each year we offer a blind comparison trial, however, in 2018, we decided to make this no longer blind! Our verbena and coleus trial allowed visitors to vote on their favorite verbena or coleus. We're adding the most popular coleus to our 2019/2020 Spring Liner Program.
---
2018/2019 CATALOG & PROGRAM UPDATES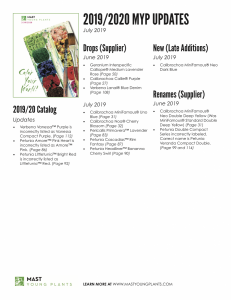 Our 2019/2020 Spring Liner Program is updated every month! Want to stay ahead of late drops, late adds, or items that are out of stock? Download our user friendly updates!
---
DIGITAL CATALOGS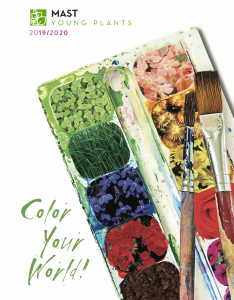 Annuals, Perennials, Grasses, Foliage Plants, Succulents, Herbs, and Pre-Finished Annuals. We've got everything you need for a successful spring liner program!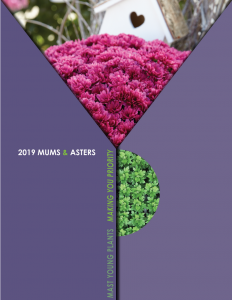 Our 2019 Mum & Aster program features mums from Dümmen Orange, Syngenta, Gediflora, and Aris Greenleaf. This program has added new combos, accents, and we've introduced two Seasonal Succulent combos!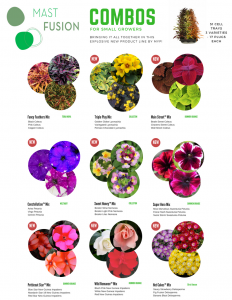 We introduced eight new assorted trays in 2019. We love our small growers and we understand that not everyone needs a full tray of their favorite coleus or petunia's. We are problem solvers at MYP and we want to make sure that we are small grower friendly! Check out our nine assorted mixes!
---
PACKAGING SPECS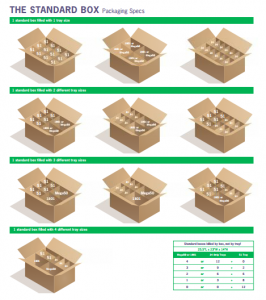 Need something catered specifically to your needs? We've got you covered! Reach out to Tyler.Duncan@MastYoungPlants.com for more info on putting YOUR NAME and YOUR LOGO on any marketing material that helps you close a sale!
---
2019 MYP Company Overview