Featuring over 2000 varieties including over 150 new additions, Mast Young Plant's trial gardens are now welcoming visitors as part of The Michigan Garden Plant Tour.  One of the highlights of our visitors' experience is seeing over 500 combination planters, deco pots, and hanging baskets where industry favorites, breeder mixes, and new varieties are displayed.  Of those 500 combos, over 300 are Mast Young Plants originals!
Garden visitors often ask us how we come up with so many unique combos.  Let us introduce Michael Deberti, head grower at Mast Young Plants and the creative genius behind our MYP originals.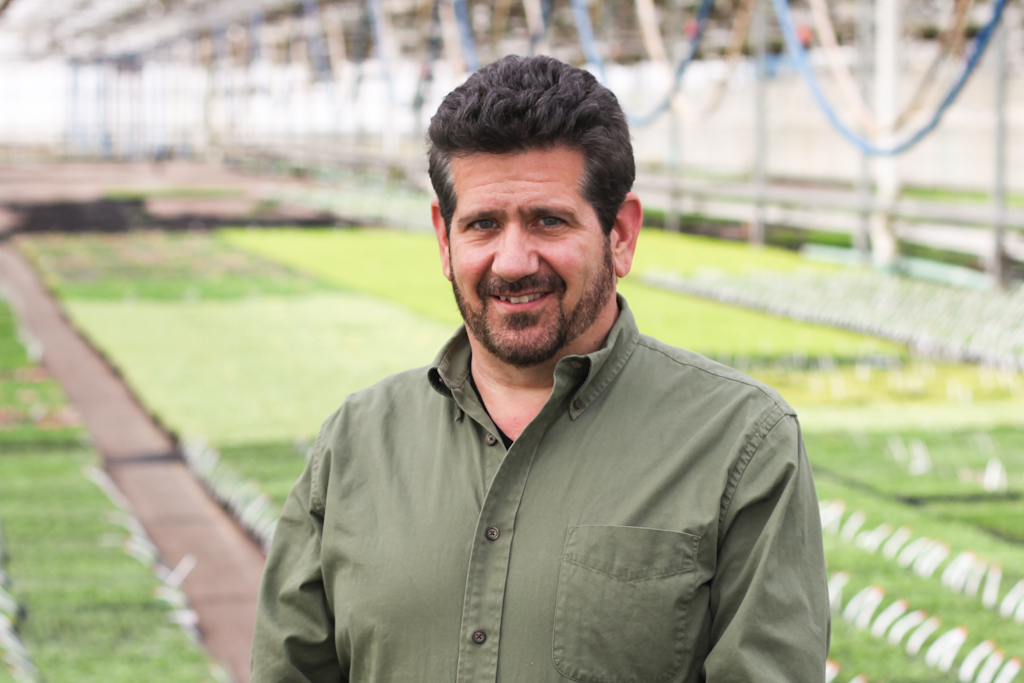 Something Old, Something New
Michael's first step in combo planning is reviewing and evaluating the previous year's trial garden.  "I go back through and evaluate what I put together, and then make plans for tweaks for the following year.  Since this is a trial garden, we're learning about how plants grow and play together in the garden each year, and some varieties I thought might work well might end up having too much of something and not enough of another. And some turn out surprisingly better than I hoped for!"
"The process is always evolving, and that's why this trial garden is so important.  That learning helps us provide the best recommendations to our customers.  Maybe 15% of our combos return — but even then they usually return with a different color scheme, or mostly intact but with a different thriller, spiller, or filler."
Here's an example where Michael switched out just one plant, producing a dramatically different effect.  "I liked the performance of the Bidens and Lantana together, but thought the yellow Petunia was too washed out," he said.
Criss-Cross Combos
Michael recognizes that having 2000 varieties to choose from gives him an advantage over the average gardener. While he appreciates the breeder combos where they showcase ways to combine their own genetics, Mast Young Plant's trial gardens feature genetics from a dozen different breeders, allowing him to combine genetics with complementary colors and shapes from multiple breeders.
This vibrant deco pot combines genetics from 6 different breeders:
Gaura – Selecta | Coleus – Dummen Orange NA | Nemesia – Danziger
Ajuga – Garden Solutions | Petunia –Dummen Orange NA | Fuchsia – Collection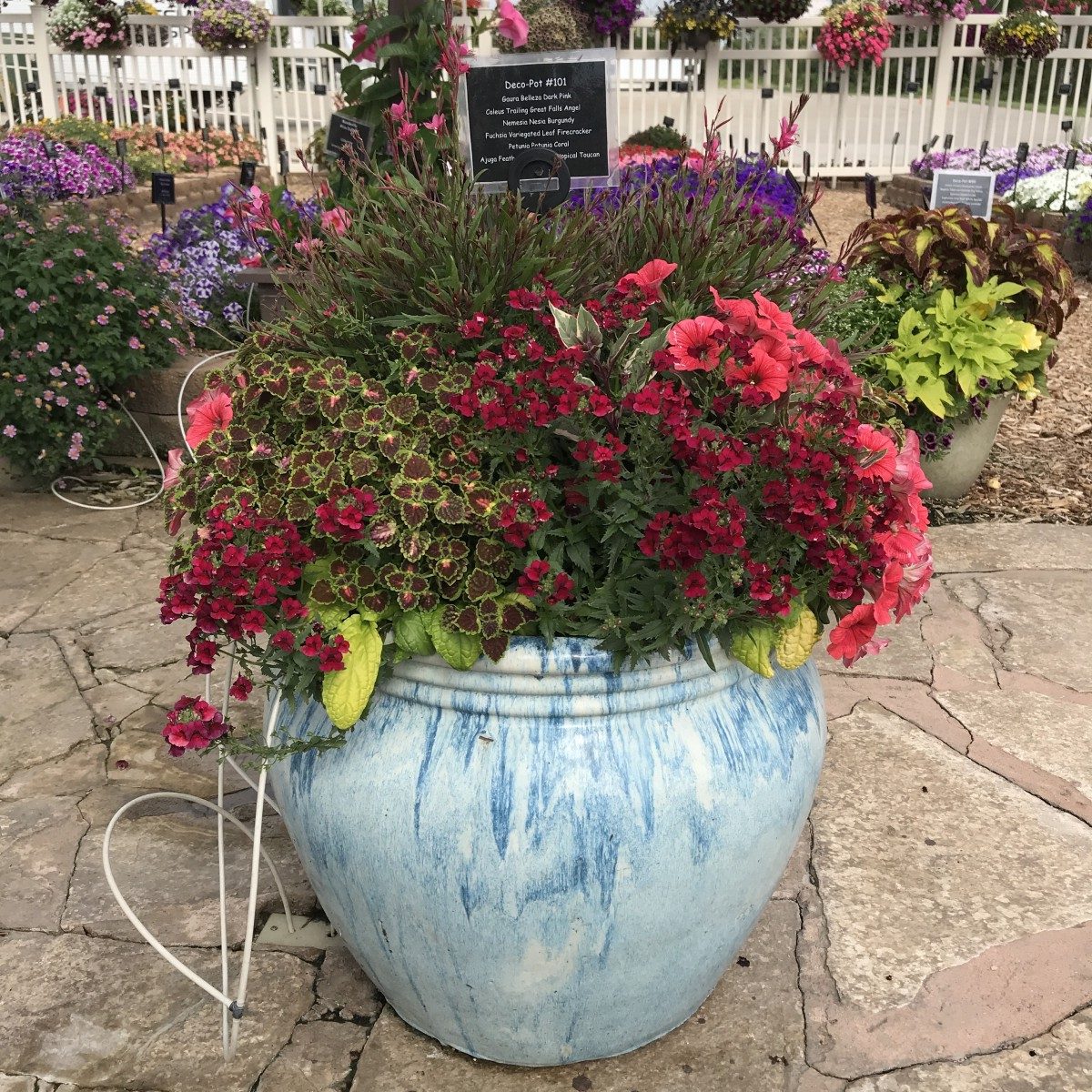 The beautiful shape and proportions of this hanging basket comes from a Danziger Petunia, Selecta Verbena, and Danziger Bidens.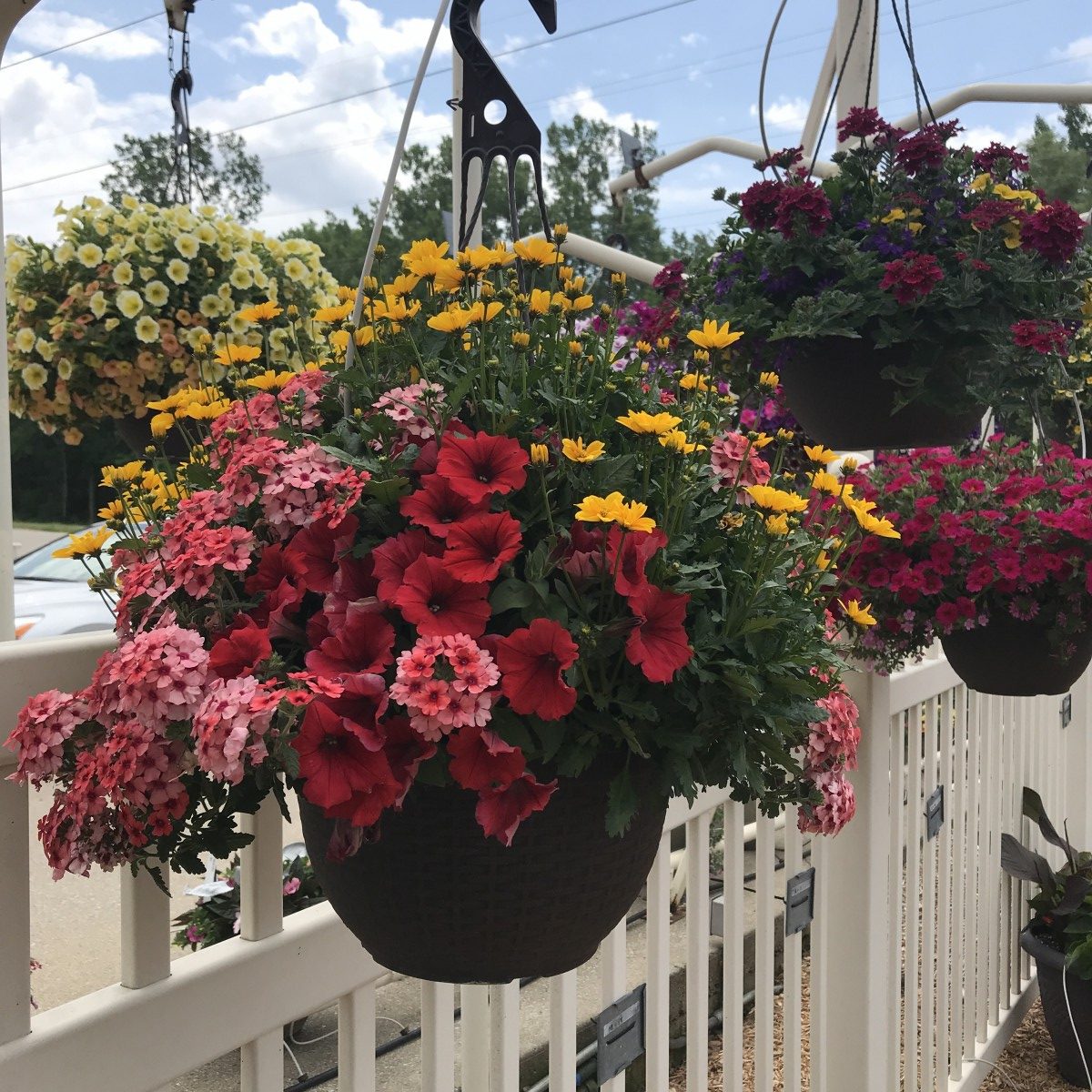 Start Somewhere
Michael often starts a combo by selecting a plant to focus on first such as a new variety, an old favorite, or a color that catches his eye.  He builds the rest of the combo from there.
Back to this combo:  Michael started with the Coleus, then placed the Nemesia to pull out the burgundy from the Coleus.  He added the coral Petunia to contrast with the Nemesia, and added the Ajuga for its yellow leaf, which complements the light green from the Coleus.  Guara added height and complementary colors, and the Fuschia in the middle added variegated red tones and hint of white contrast.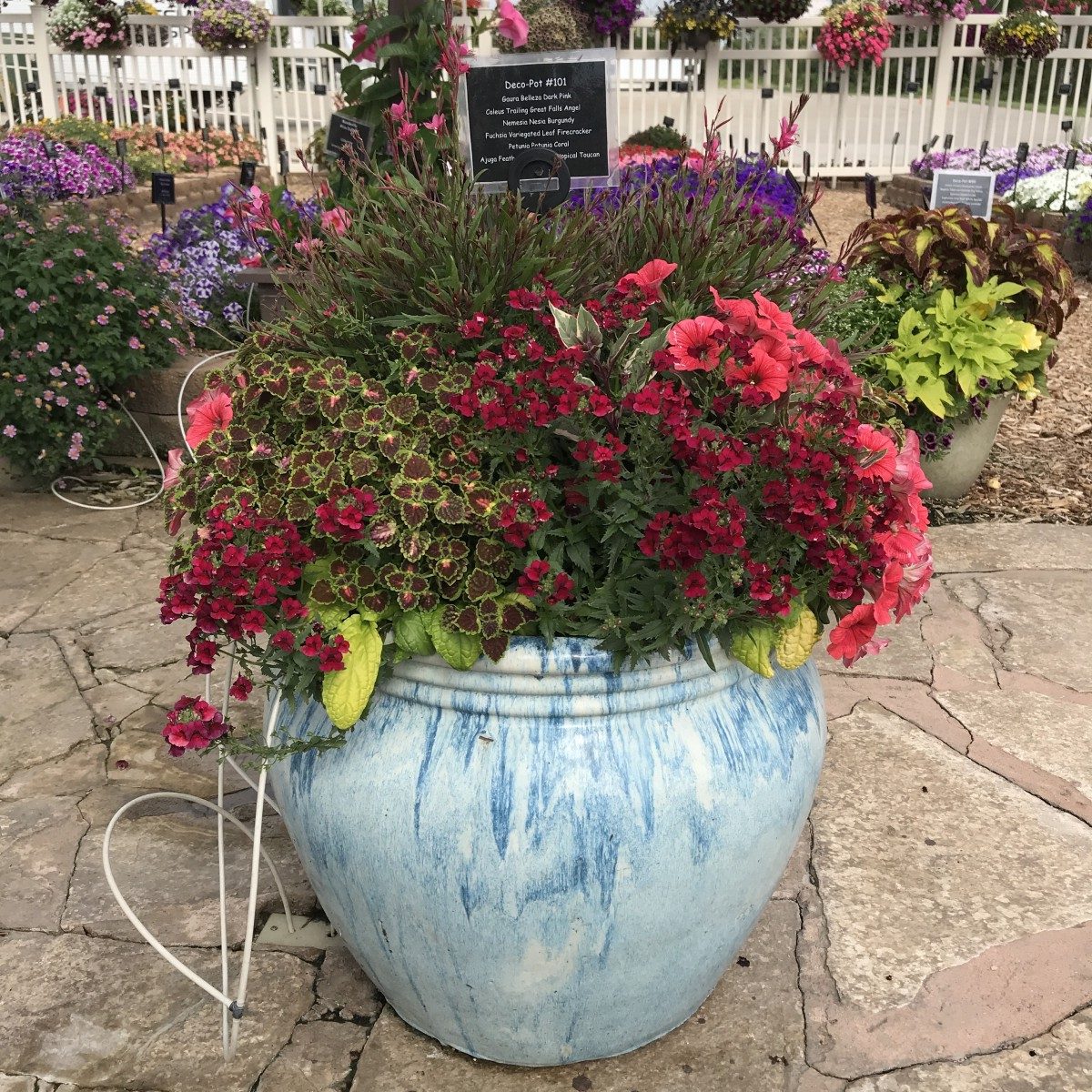 Think Outside the Box
New genetics makes for exciting opportunities! "When we get a list of new genetics, that's where the fun starts," Michael explains.  "We take those varieties and try to make combination with them, and sometimes that means we put things together we aren't sure will work together – but it's worth trying out.  Those can end up being some of our favorite combos!"
Petunia Orchid Frost from Danziger | Petunia Blanket White from Green Fuse® | Calibrachoa Bloomtastic Purple Dummen Orange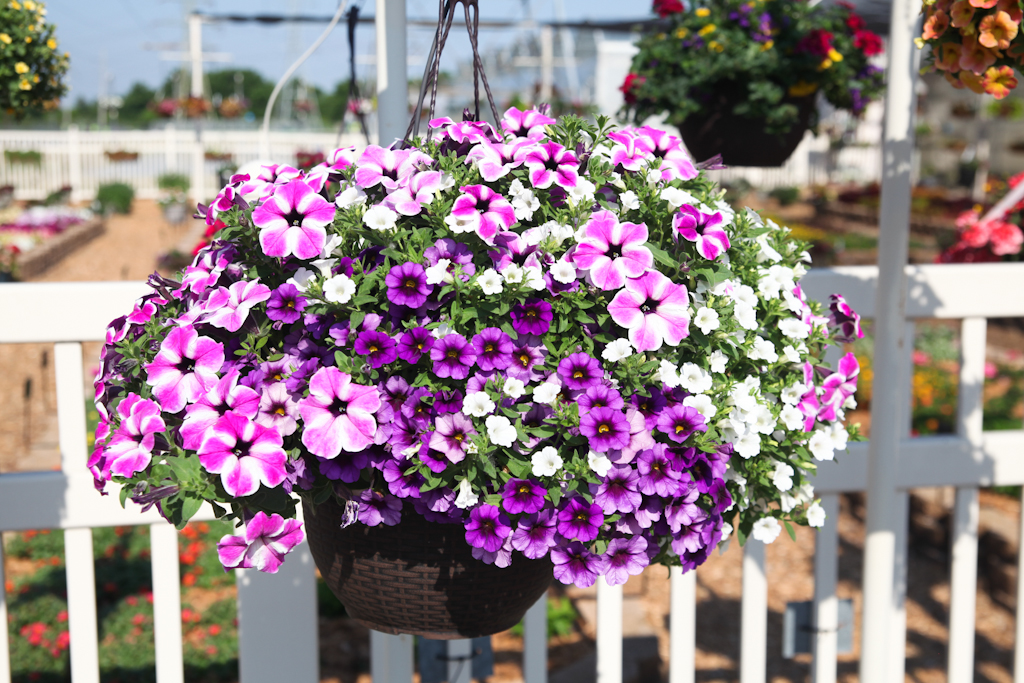 Success is in the Eye of the Beholder
"I am looking for baskets that have good shape and a long hold life, making them more appealing for retail customers," explains Michael.
Many trial garden visitors are looking for something else, and that's often eye-catching color and combinations they can replicate themselves.  "I encourage them to look at the genetics that are together, and suggest using those same genetics but using different colors available in those genetics as a way to create interesting variations on things that interest them," says Michael.
"I always look forward to seeing how people respond to our unique combos, and I love that everyone has different ideas about the combos they like the most.  Sometimes they look at something that they love, and it's not one of my favorites.  If they like it, I'm happy.  That's what's so great about plants and these trials.  Everyone can find something they love."
The trial gardens at Mast Young Plants are open weekdays 8-4 through Labor Day.  Call to schedule your visit, or just drop by!