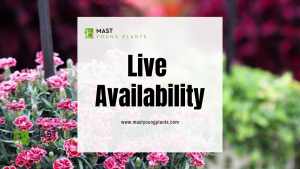 Are you looking for a particular color of your favorite variety?  Interested in adding some additional product to an order to qualify for Master Box shipping? Curious about upcoming seasonal offerings? Have after-hours availability questions?
Mast Young Plant's live availability is accessible on our website and allows you to customize your search of our entire live plant inventory – at your convenience.  Anytime, and from anywhere.
To check availability, simply visit our website and click on "live availability."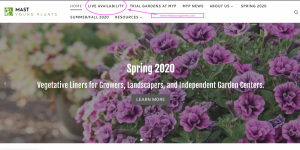 You can customize your search to include availability by week or season.  You can use the "keyword search" function to search for availability of a particular variety.  Searching by zone, genera, and container is easy to do, and you can also search alphabetically.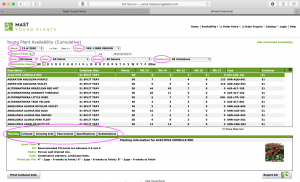 Planting, growing, climate, pest control, and substitution recommendations are also available at the bottom of the screen for many varieties.

Our live availability system provides excellent real-time inventory (updated each time you filter results), but it's important to note that this availability software from Picas reflects cumulative availability.  Cumulative availability is the full sales potential for that week; weekly availability numbers include items that are finishing in that week and items in prior finish weeks that can hold.
That is, an item that can hold 1 week will have cumulative availability showing 2 finish weeks' worth of availability.  The caveat with cumulative availability is that the system won't allow you to order multiple weeks of cumulative for a specific item since multiple weeks can show the same inventory.
In the screenshot below, Begonia Fragrant Falls Lemon shows 47 available in Week 14, and 33 in Week 13.  If 33 are booked in week 13, only 14 would be available to book in Week 14.  Likewise, this screenshot indicates 10 trays of Big Rose Begonias available to ship through Week 14. If they are booked for Week 13, they are no longer available. A cumulative total of 10 Big Begonias can be booked through 14, rather than 10 in 13 and 10 in 14.

It's also worth noting that sometimes the first week of listed availability may include remaining plants carried over the prior week; those carryover plants would be available on the first week of listed availability but not necessarily beyond that.
As a reminder, orders placed by noon on Wednesday can be included in truck deliveries for the following week.
Our customer service team is happy to answer any of your booking questions, and they can be reached via email (customercare@mastyoungplants.com) or by phone (616.784.0583).