In honor of our colleague & friend Albertano Hernandez
Albertano "Tano" Hernandez, production manager at Mast Young Plants, passed away unexpectedly from COVID-19 while in Mexico visiting his family on June 16, 2020.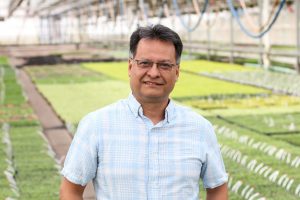 Tano took great pride in not only getting a job done on time, but also in getting it done with excellence.  He exemplified our core values of adaptability, constant improvement, and always wanting to win, tackling new tasks and projects with his characteristic positive attitude and a smile.  He led by example, faced challenges as opportunities, and faithfully helped not only those on his team but other teams as well succeed in their work.
In his 36 years at the greenhouse, Tano was known as a loyal team player. He cultivated many lifelong friendships with coworkers and industry colleagues who recount many stories of his patience, integrity, understanding, and sense of humor, as well as the way he always lit up when asked about his kids and while speaking of his family both here in Michigan and in Mexico.  We've lost a beloved member of our team and family.
We extend our deepest sympathy to Tano's family and especially to his children Jocelyn and Alex. A private family ceremony was held on June 20th in remembrance of our dear friend, and Tano's friends here at Mast Young Plants are planting a tree and placing a plaque in his memory and honor at the greenhouse.  We miss him tremendously, and are profoundly grateful to have counted Tano as our colleague and our friend.