MYP Mum & Aster Program
April 15th 2019 – September 13th, 2019 | Week 16 – 37
We're pleased to present a broad assortment of the latest genetics and innovative plants along with all-time favorites. MYP combines mum and aster varieties from multiple suppliers along with three different tray sizes to give you the best choice possible.
Introducing our 3rd annual Mum & Aster Catalog! Featuring all mum and aster varieties we offer along with popular accents for building combos! With color photos of each variety, information on bloom time a, this is a great reference when ordering! 
---
2019 Mum & Aster Catalog
---
---
NEW | Tiger Eyes by Dummen Orange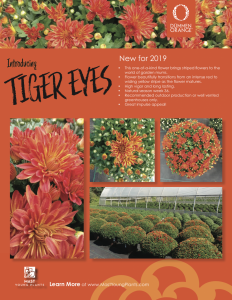 ---
NEW | Fonti Belgian Mums by Gediflora
---
Seasonal Succulents
Available in 72 Cell Tray and features 6 different varieties of 12 each. Grown as a 72/Sold as a 72.
---
Mum & Aster Liner Program – Tray Sizes
51 Cell Tray
51 Cell tray mums are not pinched. They are grown as a 51 and sold as a 51 (25mm plug)
Mega50 Tray
Mega50's are pinched and grown as a 50 and sold as a 50 (40mm plug)
Lil Liners
Non-pinched 52, sold as a 50. Our minimum is 50 per variety. It takes 300 liners to fill a tray! MYP's Lil Liner mum strips are grown and spaced, then consolidated for shipping. This method ensures uniform, healthy plants while you enjoy great savings on freight!
Click here for shipping information and order guidelines.