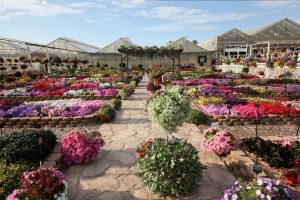 Our "Living Catalog"
We're proud to to offer our customers, sales representatives, and breeders the opportunity to experience our program offerings live at our Trial Garden. The Mast Young Plants Trial Garden serves as our "Living Catalog" and includes all of the varieties offered in our liner program from over 25 key breeders.
The 2021 Trial Gardens features:
Over 100 genera
135+ new additions for 2021/2022  
1500+ varieties in raised landscape beds, hanging baskets, deco pots, saddle planters, and window planters
500+ unique, custom-designed hanging baskets & patio pot combinations
20 raised beds
one amazing team!
All varieties are sorted by genera and are clearly labeled, offering visitors a unique opportunity to compare size, color, and vigor in order to make informed selections and to select the perfect plant for their needs. MYP also displays more than 500 different custom combinations shown in hanging baskets and in containers throughout the display gardens. Each combination lists each "ingredient" so customers can recreate their favorites!
---
2021 Top Garden Performers
Your guide to the 2021 top annual varieties from around the world! Learn about which varieties exhibited excellent garden performance along with consumer favorites.
Click here or the image below to view or download the trial garden report.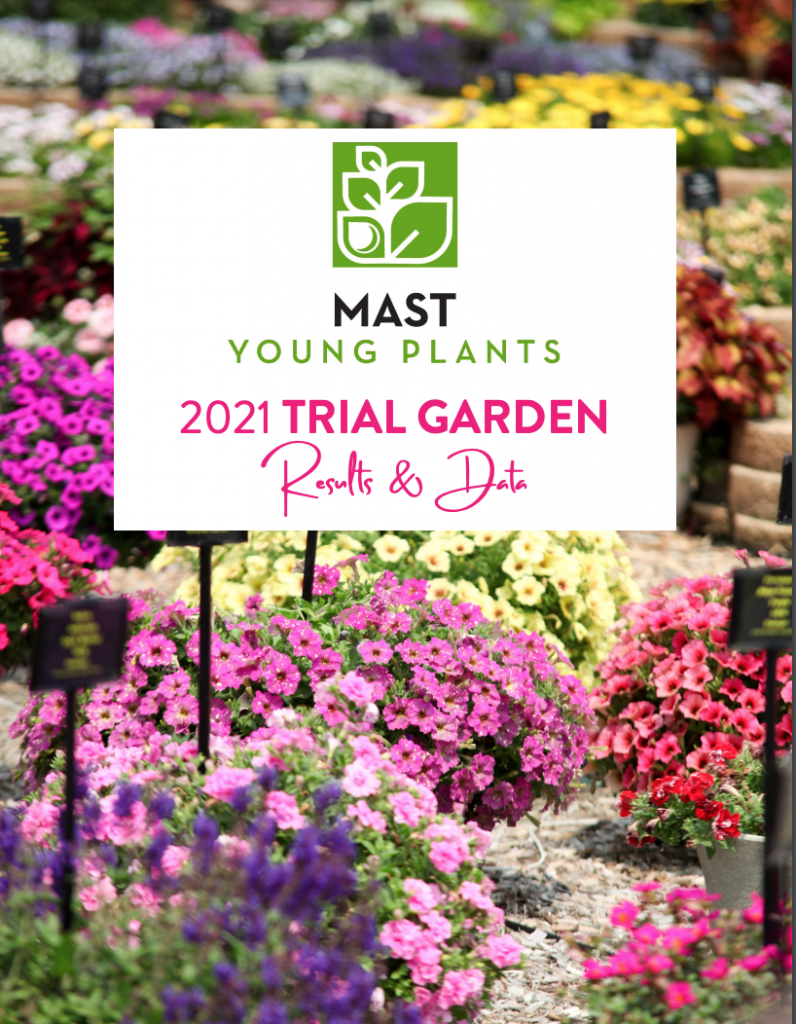 ---
The Michigan Garden Plant Tour
The Mast Young Plants Trial Garden is also a destination on the Michigan Garden Plant Tour! This is a free, coordinated open house of leading young plant producers of ornamentals and Michigan State University. The objective of the tour is to educate growers and industry professionals about new and existing garden plants and how they perform in different settings.
Greenhouse growers, landscapers, garden center operators, and nurserymen are invited to participating tour sites during the two week period.
The Michigan Garden Plant Tour takes place during the last week of July and the first week of August each year and the 2020 tour is scheduled for July 26-August 6.
Expect to learn about a wide range of ornamental crops, including popular commercial brands of annuals and perennials. This is a terrific way to observe plant performance at different locations and grown under various conditions, both in the ground and in containers.
---
2021 Visit Guidelines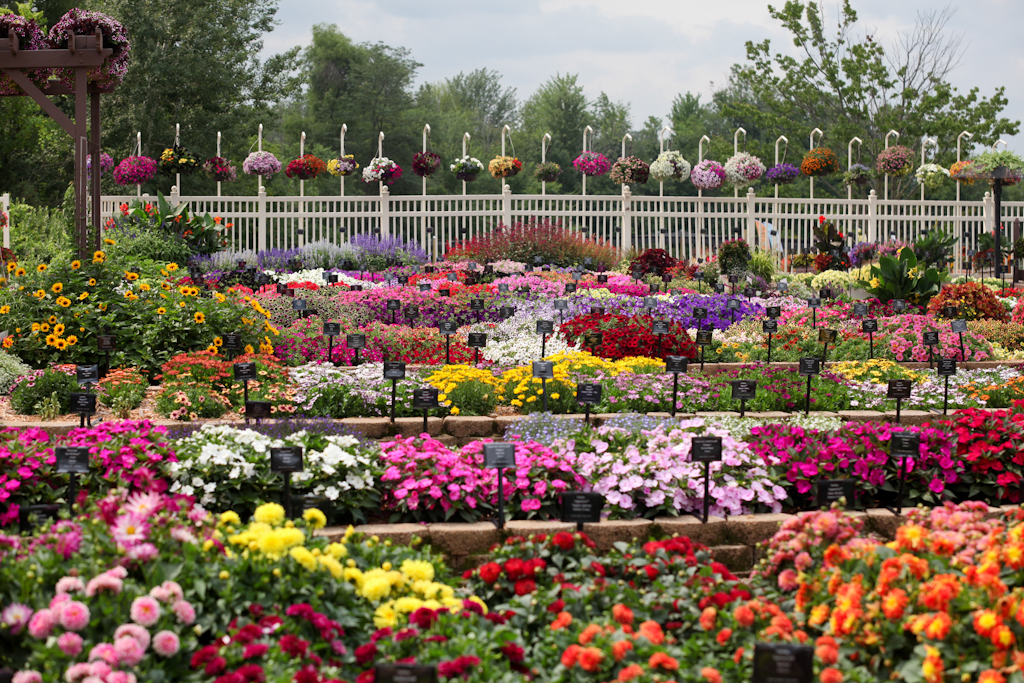 Our Trial Garden is open mid-July though mid-September
Monday – Friday, 8AM – 4PM.
Take a day trip and come visit! Schedule your private tour or event today. We offer shaded sitting and meeting space areas with wireless internet. Our knowledgeable and helpful  staff is eager to welcome you to our trial garden and we are happy to assist you with any questions.
Please check back here for updates to tour schedule and operations based on public health guidelines.  The State of Michigan has indicated that public health restrictions related to Covid-19 will be lifted on July 1, 2021.  We will adjust our operating guidelines based on emerging guidelines from the state.  Please check back here for the most updated information.
MYP has always hosted trial garden guests with an onsite air-conditioned restroom, cold drinks, and lunch served daily. We are pleased to offer cold drinks and snacks in single-use sealed containers.  We are not planning to cook or serve lunch this summer, but hope to have the grills serving  up lunch again in 2021.
We will provide single-use pens, pens, hand sanitizer, and our 2021 catalog that we'll ask you to take with you when you leave.
Our acre-and-a-half garden display area naturally facilitates plenty of space for visitors to comfortably peruse the trials.
We provided extensive photo and video documentation during the 2020 trial garden season, and plan to continue that practice this summer for those interested in virtual connections. Please follow us on Facebook, Instagram, and LinkedIn for garden update throughout the summer.
We look forward to welcoming bus tour groups back this summer.
Broker groups are asked to please make a reservation for a private event.
Per state of Michigan guidelines, masks are not required outdoors.
Located at 3525 Bristol Avenue NW, Grand Rapids, MI 49544.
Evening and weekend self-guided tours are available!
For more information, please call us at 800.541.3910 or email customercare@mastyoungplants.com.
---
All-America Selections Trial Ground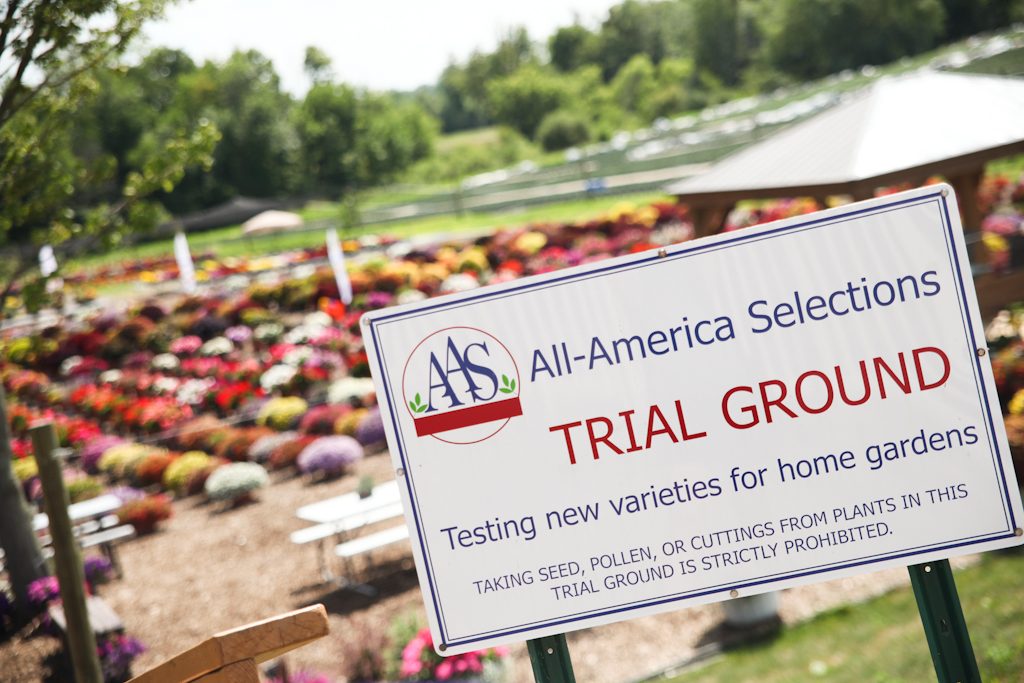 We have been an All-America Selections (AAS) trial site, featuring seed and vegetative introductions trialed in containers, since 2012.
For more information about AAS, click here.
---
2021 Feature Items Trial:  Summer Survivors
Our innovating department's annual comparison trial will feature summer survivor varieties Angelonia, Celosia, and Lantana.  Come and see all breeders' varieties of these genera side by side and vote for your favorite!