---
With over 200 new varieties for the 2016/2017 season, it's nearly impossible to highlight every single new variety we are carrying, but we can showcase a few of our favorites. See below for a few of Mast Young Plants new and exciting varieties that we are sure you will love as much as we do! To see more information on growth habit and other ways to care for these exciting new additions to our 2016/2017 line up, please see our "Cultural Info" tab on our home page or contact our staff directly using our "MYP Staff" tab.
---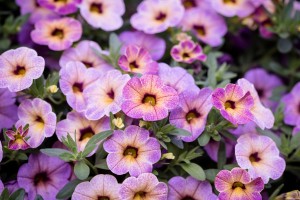 Calibrachoa Chameleon series was new to Mast Young Plants last season (15/16). Our customers loved the ever changing colors, never knowing what next weeks flowers would quite look like. The Chameleon Blueberry Scone, is brand new for the 16/17 season and holds it's uniqueness in the blue and yellow tinted flowers. Great for hanging baskets and window boxes. This plant has a medium growth vigor and blooms earlier in the spring season.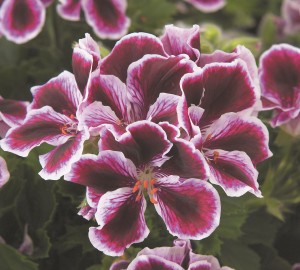 This geranium is nothing like what you have seen before. The bold burgundy/purple color paired with the elegant white outline of each petal makes for a breathtaking plant. The deep green foliage on this plant is mounded and uniformed making it great to use in pots or mixed window baskets.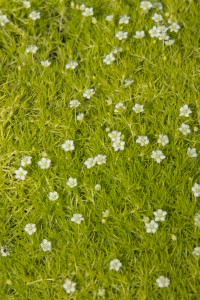 The Sagina Subulata Scotch Moss is a great multi use plant. Only getting to be about 1 inch tall and 12 inches wide, this moss is great to use in landscaping as ground cover, with rock gardens, edging and much more. It does well in partial to full sun but does need regular watering, especially in extreme heat. Taking on small white flowers in spring, and able to tolerate moderate foot traffic, this is a new variety you do not want to miss out on.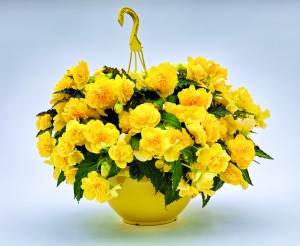 Begonia Nonstop Joy Yellow is a vibrant yellow begonia that is easy to grow, beautiful, and proven Nonstop quality. Thriving in partial shade to sun this begonia will grow to be about 8-12 inches tall and looks great in pots and hanging baskets. Heat and drought tolerant and deadheading being unnecessary, the Nonstop Joy Yellow Begonia is easy upkeep and a valuable addition to any garden or greenhouse.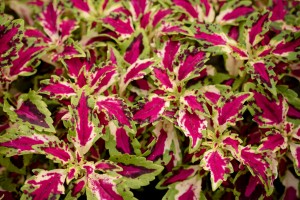 This exceptional coleus has a striking appearance of a green/cream leaves with a bright pink center and spots all around. This specific plant is partial to full shade and grows to a flattened globe appearance. Blooming late season and finishing out in 3-4 weeks makes for a great and colorful way to brighten up the end of your summer. This coleus is very universal and is great for pots, planters, landscape and more.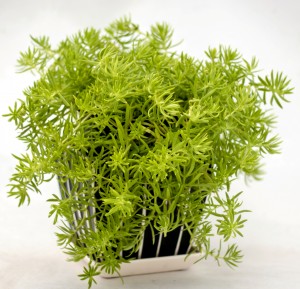 Sedum Lemon Ball is a heat tolerant, easy to care for plant. It features soft foliage, a golden yellow/green color, and blooms that are as vibrant as fireworks. Not only is this sedum highly deer and rabbit resistant, but it is also attractive to butterflies and hummingbirds. This succulent, in addition, is considered hardy in zones 3-11. There is a lot of value packed into one in this extraordinary plant.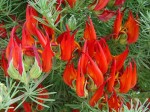 Lotus Parrots Beak is a exotic summer annual. It has soft silver-green trailing foliage, accented by spiky bright red flowers resembling a parrot's beak. Use this unique plant to add interest to containers- or to create a tropical hanging basket.
Download our PDF flyer for more information!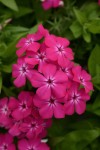 Phlox Gisele is a new series of garden phlox that will be available starting week 6 from MYP. Featuring large colorful flower clusters this plant is great in a landscape, and also makes an excellent season color.
Available in 4 colors;